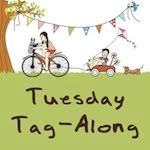 Here's how it works:


The weekly Tuesday Tag-Along MckLinky opens everyMonday night at 8:59pm Pacific Standard Time (that's 11:59pm Eastern Standard Time), and the TTA blog post will be posted well in advance of that time. The MckLinky will be open to add your blog until 11:59pm Tuesday night. You then have all week long to visit blogs and return follows!
Please link up again each week to join in the fun!
Please leave a comment if you follow me so I can follow you back!!!